Alpha Romeo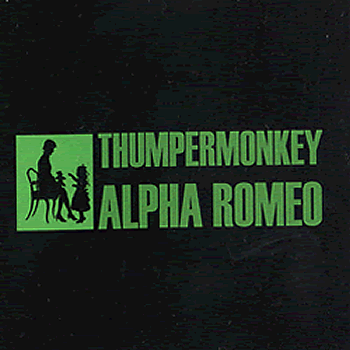 Review in www.losingtoday.com 
Singled Out – Christmas Bumper Missive 24-12-2003
Thumpermonkey 'Alpha Romeo' (Self Released). Thumpermonkey is none other than Michael Woodman member of the excellent Brand Violet whose 'Alien Hive Theme' had us all whooping and bopping around the record shed only last month, and just before you start squirming excitedly at the prospect of more surf-tastic flavours pouring forth, think again.
This really is an odd release, and when I say odd, I'm talking in terms that it makes the recent Ronis Brothers album seem positively poppy, and that, believe you me, is no mean feat. So odd it is, but then odd doesn't mean it's bad, or does it? With titles like 'Making bombs while listening to Leonard Cohen' and 'Schrodinger's Cat' how could we honestly resist this fractured five track CD.
The former is a curious fusion of stalking menace and manic 'Pure' era Numan replete with all the metal Reznor hooks furiously colliding savagely amid a violent storm of rage and irritation, the attrition pausing only momentarily at various sections for some trippy spacey fluffiness at which point things get briefly daydream like.
'Glow in the Dark' initially recalls the rapping part of Curve's debut '10 little girls' doing its stuff over a succession of confused electronics which without warning rear up to create a decidedly schizoid dance groove with what sounds like B-52's Fred Schneider doing the distressed vocals, into the mix float dismembered segments of string arrangements and mellowed space sound bites.
'Your Humble Savant' is an eerie avant garde cut that has the feel of the Cravats being messed up by the Virgin Prunes about it, surreal lyrics unfold an eerie drama within, all set to a haunting backdrop of macabre wide screened gloss, uncomfortably psychotic.
Going all thrash metal for the rampant 'Schrondinger's Cat' sort of like an unholy union of Extreme Noise Terror, 'Antmusic' era Adam and the Ants and a group of passing Druids, all plugged into the mains supply by handy little clips to the genitals, a track which in all honesty needs to be heard to be believed, the work of a warped genius, or just warped. Your call.
Calming down for the seemingly gentle intimacy of the piano led 'Pets', no shocks or things jumping from out of the corner here, just a quiet sinister-less Moby-esque finale.
Recommended, without doubt, though I'd leave all the lights on and play only during sun up.
credits
released 01 January 2003