Bring Me Sun For Breakfast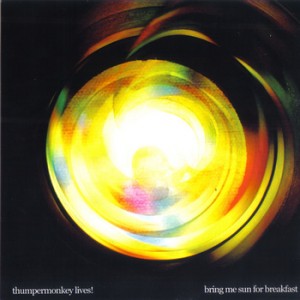 (Thumpermonkey releases can also be searched for on Itunes, Spotify, Amazon, and CDbaby).
Review in ORGAN MAGAZINEwww.organart.com
Prog bleedin' rock mate! The self indulgent cool as F real fugging thing – all long winded and taking an age to unfold and they've got no horns and they've got tails and they don't even know of our existence. Not one of your indie-smindy post hardcore bands claiming to be progressive because they borrowed one of the easier At The Drive-In riffs, or yet another noodling post-rock copy of the Explosions in Your Emperor thing. No! This is the full on weird wired bombastic Rael in his Lighthouse in the court of crimson u-boat real big Gentle Giant, Isis deal. Cram five songs in to one and takes us through all kinds of melodic light, shade and moody atmosphere (and strange lyrics that I haven't quite deciphered yet, Scientology in the woodshed and you know the drill).
Actually they sound like an easier to digest Sleepy People (without the hardboiled Pere Ubu vocal style and the slightly twee bits) and with more than a healthy hint of the mighty Sensational Alex Harvey Band – and they have this deliciously dirty edge and filthy sludgy guitar sounds (and they're cool enough to name drop Ian Gillan in Jesus Christ Superstar – now that is cool!). You see, you progheads out there who like it polite and sanitized and cleancut (and boring) like Porcupine (yawn) Tree are these days, or all you fans of those dull conservative prog by numbers Spocks Beard outfits – if that's what you like then you're going to run a mile from this, you'll run off like fat squealing neo-prog piggies back to your safe little inside out world of Pendragon offshoot bands and Marillion without Fish blandness, run piggy run piggy run run run, back to your office, back to your grave, the feeder is…. – but those of you who loved Poisoned Electrick Head and Sleepy People and Cheese Cake Truck and Camp Blackfoot and now love Fantomas and Tool and Isis and Sleepytime Gorilla Museum and the punky edge of those Cardiacs and yes Gillan and 70's Genesis and Alex Harvey and the great god Hammill and Houses of The Holy – yes indeed imagine Gillan but cool enough in terms of energy and attitude to be on Discord Records with an Albini edge and hard boiled heavyweight maths and yes! Nothing too hard boiled though, this is not 'difficult' or 'awkward', beautifully melodic and dramatically paced actually, nothing thrashy or punky – well at least not in the noisy sense.
There's three of them, dirty guitars, delicate guitars, quiet guitars and battling counterbalanced riffs that revolve around each other rather than the usual staple of progrock keyboards – fugging 'ell this is brilliant! It was good from the off but now I've been chewing on it for a bit, this is brilliant!. Five songs, five epics, not in terms of length (although they all feel longer than they actually are!), epic in terms of content, in terms of musical drama, light and shade. There's a massive ten minute track that feels like twenty minutes at the end). Ah look, real deal must-have ear food, excellent, word had been seeping out over the river from South London about this band, word was right, and we should have mentioned The Melvins as well.
credits
released 01 January 2007